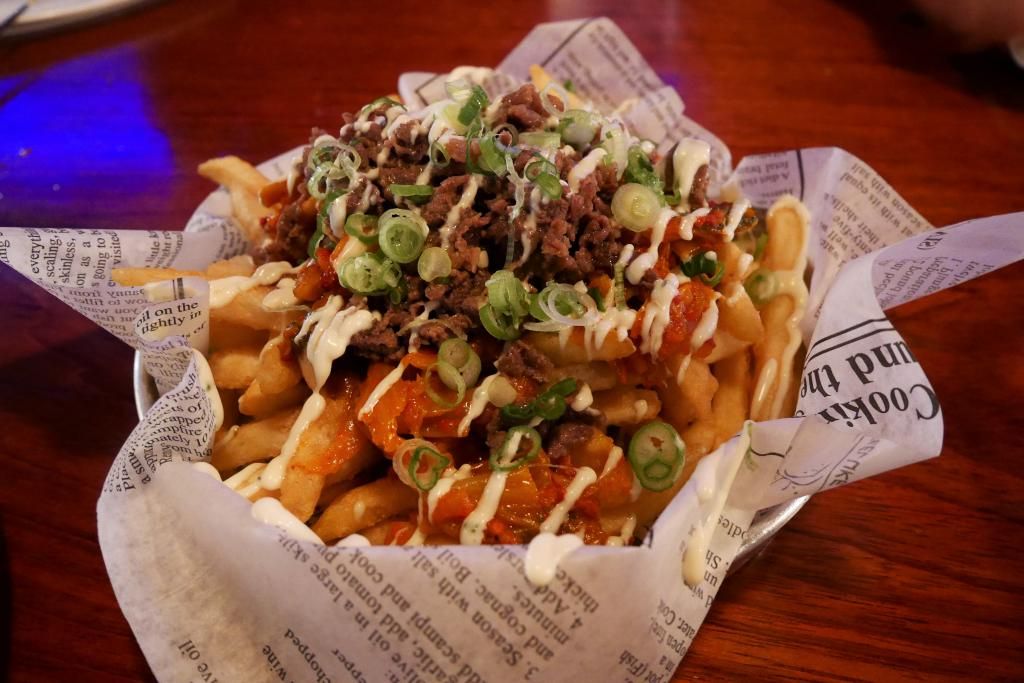 Location Review
4862 Yonge St
Toronto, Ontario
(416) 5 46-8218
Just when you thought the Yonge and Sheppard area in North York already had enough Korean restaurants, along comes Han Ba Tang (@han_ba_tang), the newest addition to the block. With a name that translates from its native language as "one full round", Han Ban Tang's restaurant owner aims to combine her decade long experience in authentic Korean cuisine, with modern culinary ideas. She refers to her cuisine as "young fusion Korean" and maintains a menu which she constantly revises in hopes to inspire appreciation of the Korean cuisine from a younger population. Young or old, Han Ba Tang's deep background story, warm hospitality, innovative dishes, and original drink menu will easily win over many a crowd.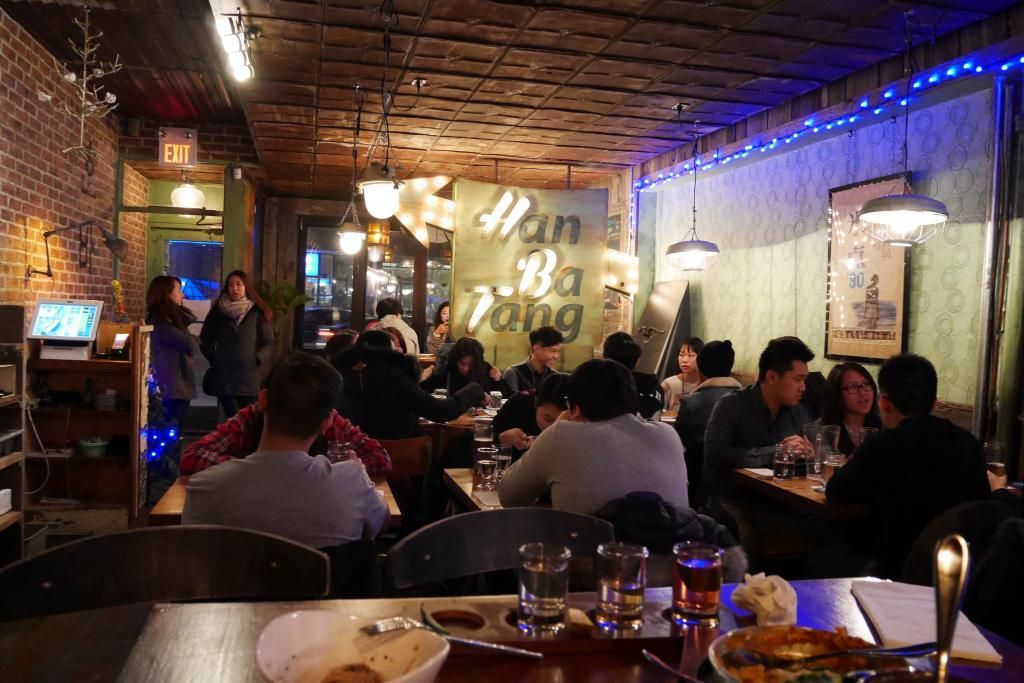 Han Ba Tang
The first thing you notice when entering is the eclectic decor. It starts with a typical restaurant set up, add a large communal table, a glowing sign that resembles the likes of Las Vegas, misfit wallpaper among a clay brick wall, and a swordfish hanging on the wall. And yet when restaurant owner Chei begins to explain the oddities of this space, it suddenly achieves a charming clarity. Each piece of decor has a sentimental purpose which collectively represents the values and soul of Han Ba Tang. She calls it "industrial vintage".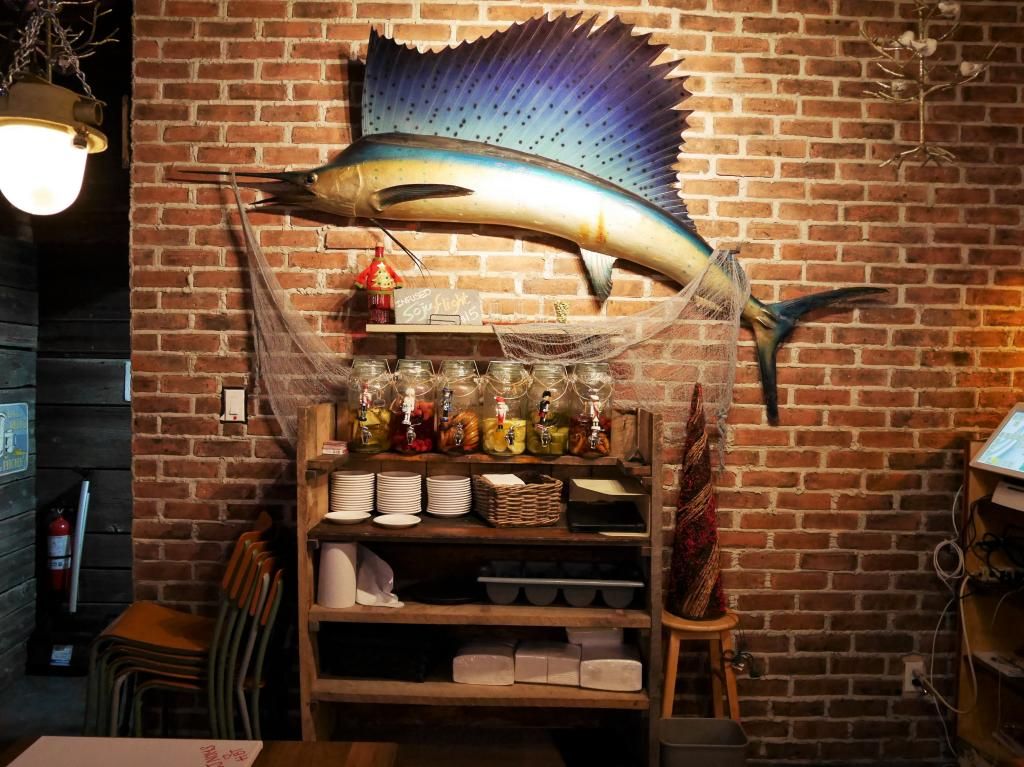 The HBT Swordfish
A more memorable portion of the decor anecdotes was the story of how they opted out of having a storefront sign in order to preserve a rare Vitrolite tiling which was uncovered when the previous established sign was removed. The production of these tiles ceased in the 40's and the owner's gesture is one I appreciate as having a lot of heart and thoughtfulness - both of which emerge in Han Ba Tang's cuisine.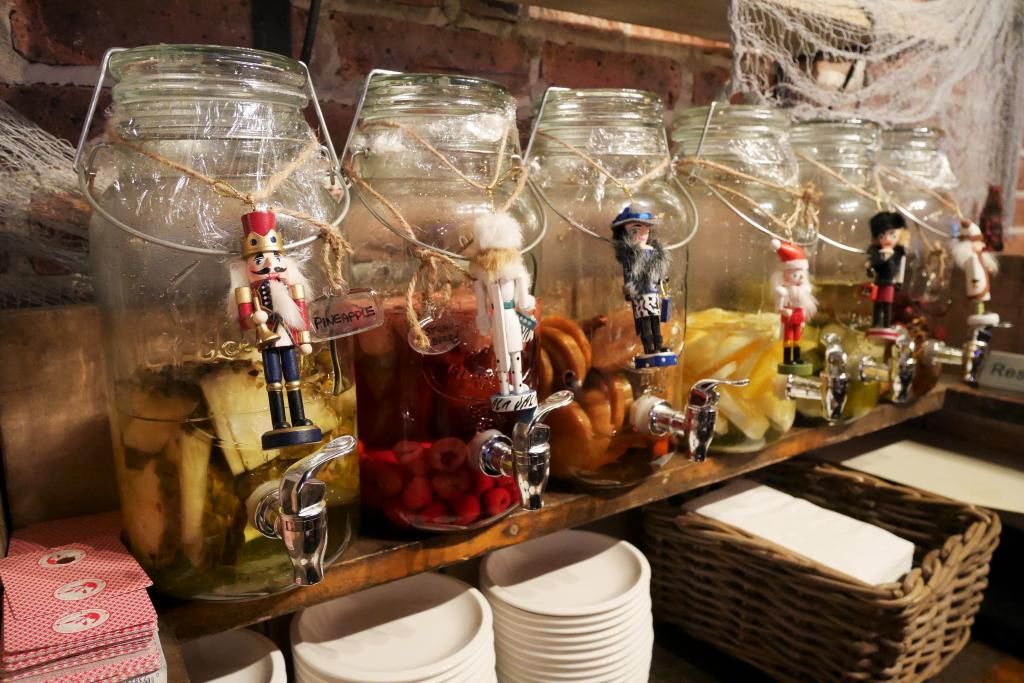 House-made Infused Sojus
As always, I start my review with the libations. But to do that, I must bring attention to the mini soju bar found underneath the swordfish. One of the more refreshing (hypothetical and literal) aspects of their drink menu, is the house-made infused sojus. Flavours are on a constant seasonal rotation, and can be consumed within their cocktails or via a soju flight.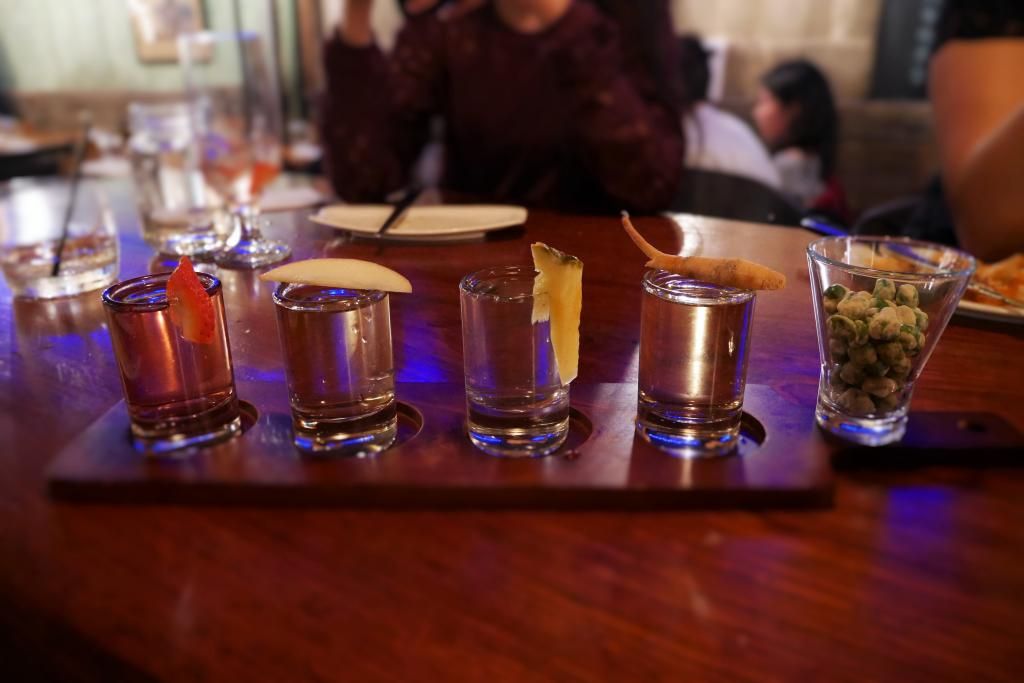 Soju Flight ($15)- Strawberry, Cinnamon Apple, Pineapple, and Ginseng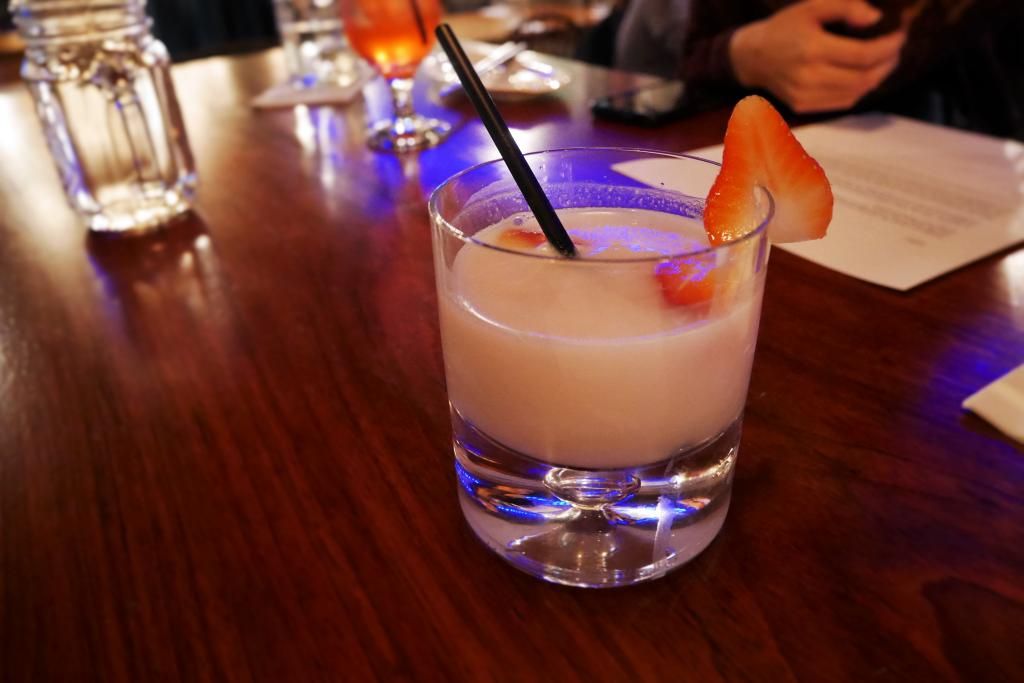 Strawberry Inception ($8) - Soju, Yogurt, Strawberry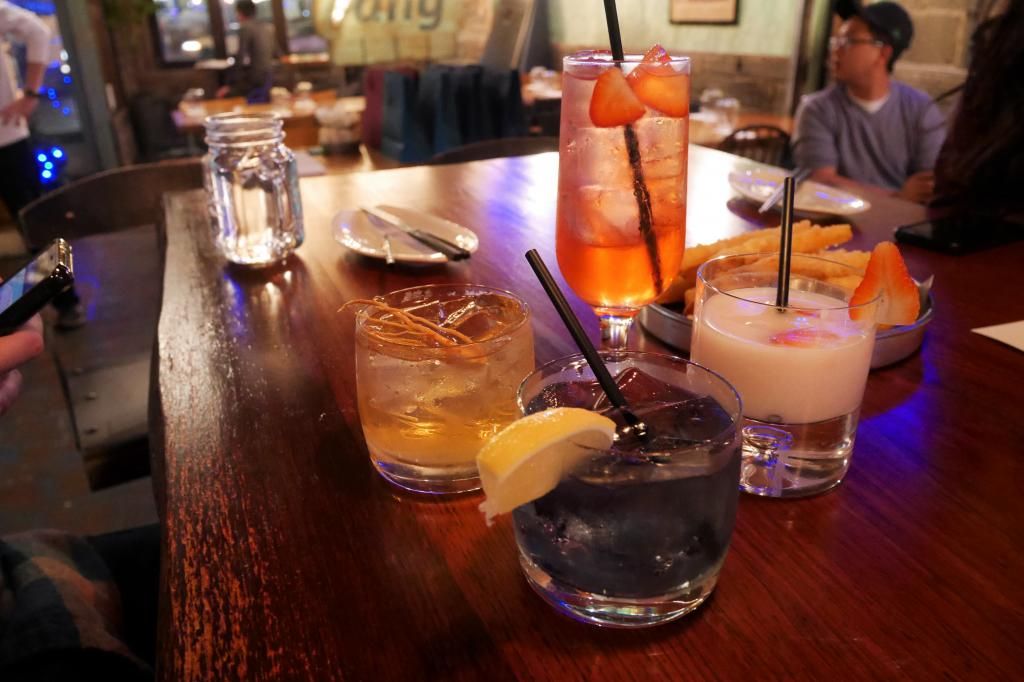 Back: Kandy Crush ($8) - Strawberry Soju, Triple Sec, Raspberry
Front:Ocean Popsicle ($9) - Blue Curacao, Raspberry Sour, Southern Comfort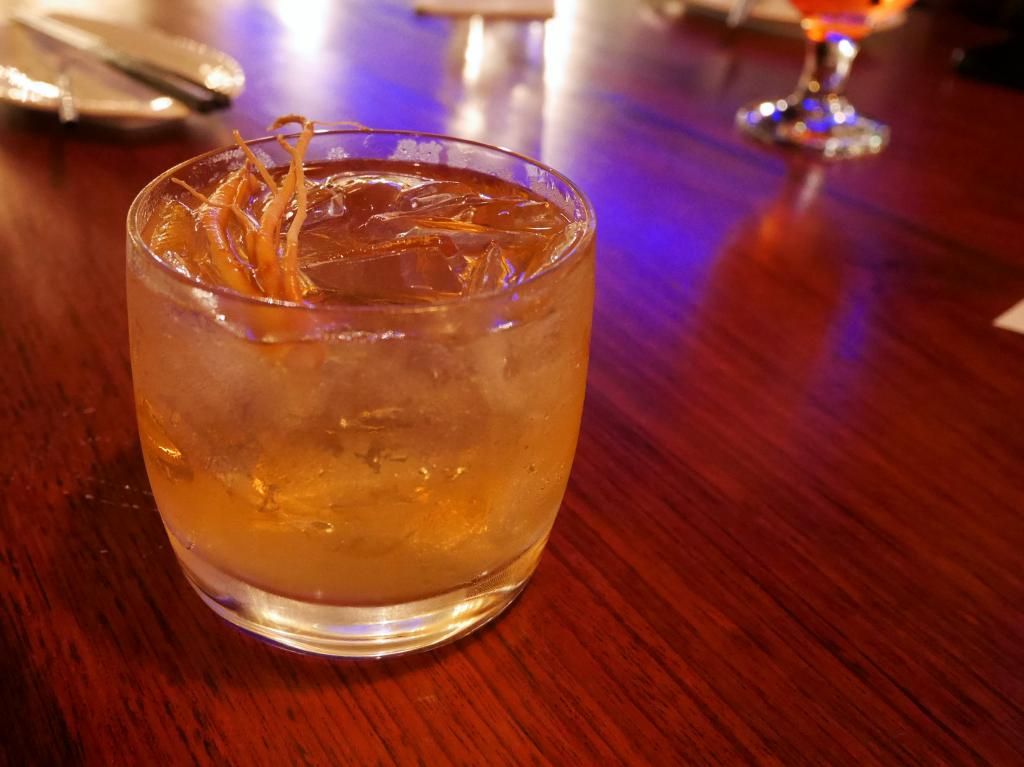 Live to 1000 ($12) - Ginseng Soju, Honey, Hennessy
While resident bartender Dee admits that he had female preferences in mind when crafting these original cocktails, he does have a couple of "manly" drinks including the Live to 1000 and HBT Old Fashion.
With our whistles wet, we were then treated to a large selection of Han Ba Tang's food offerings. The menu here is accommodating for those hoping for a meal, as well as just a snack to accompany a night of drinks.
Sweet Potato Chips - Sweet potato fries served with wasabi mayo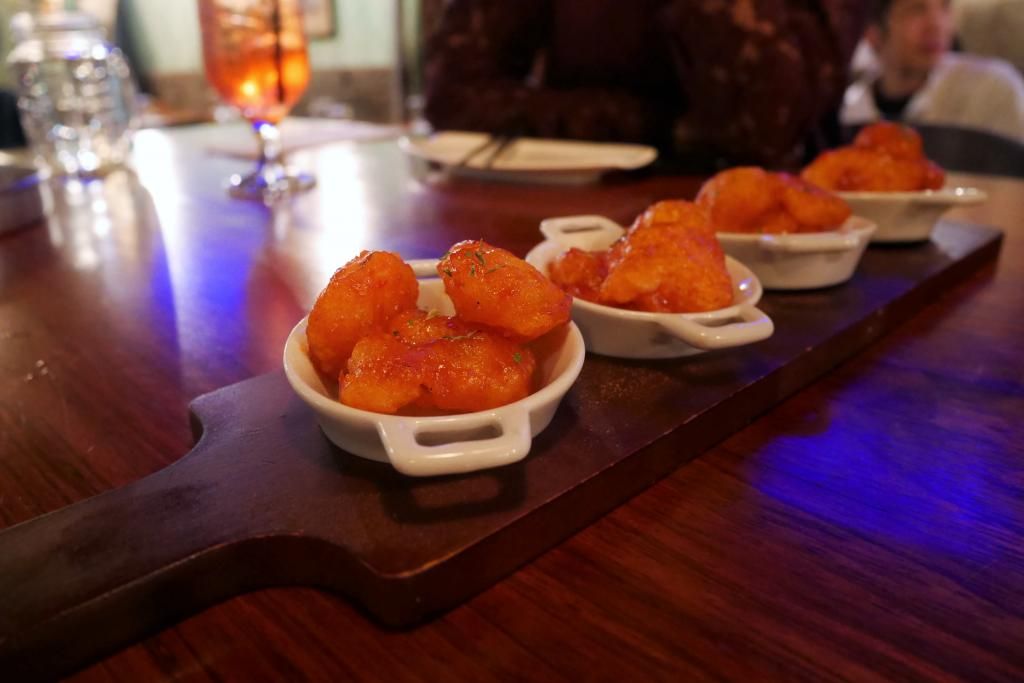 Chilli Shrimp - Lightly battered shrimp dipped in sweet chilli sauce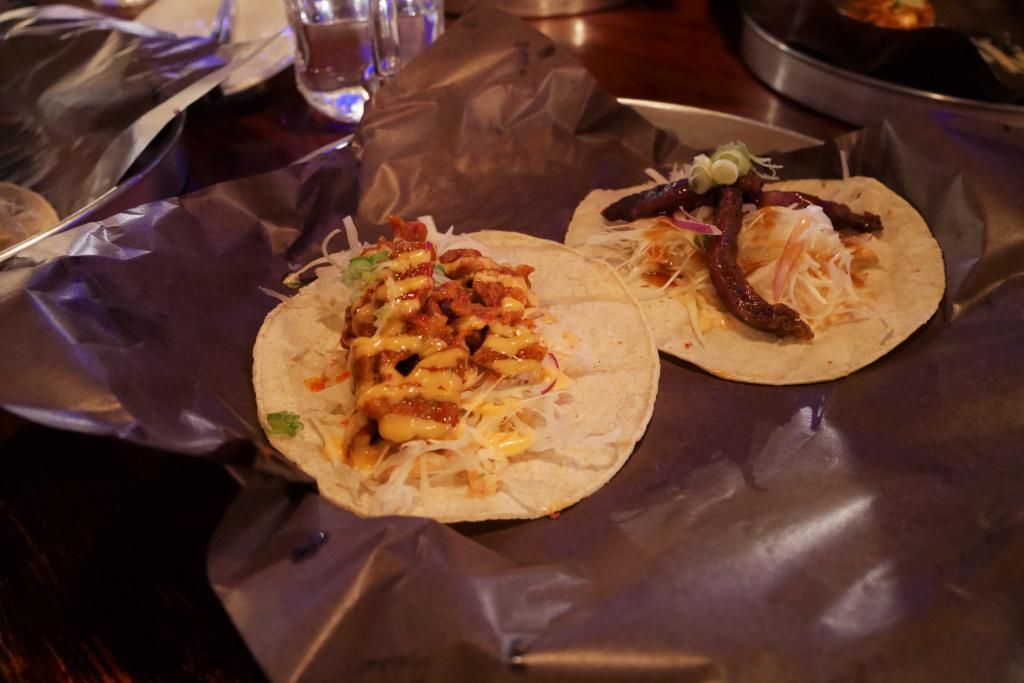 Kalbi Tacos & Spicy Pork Tacos - Grilled kalbi or spicy pork on a bed of shredded cabbage, red onions and light house aoli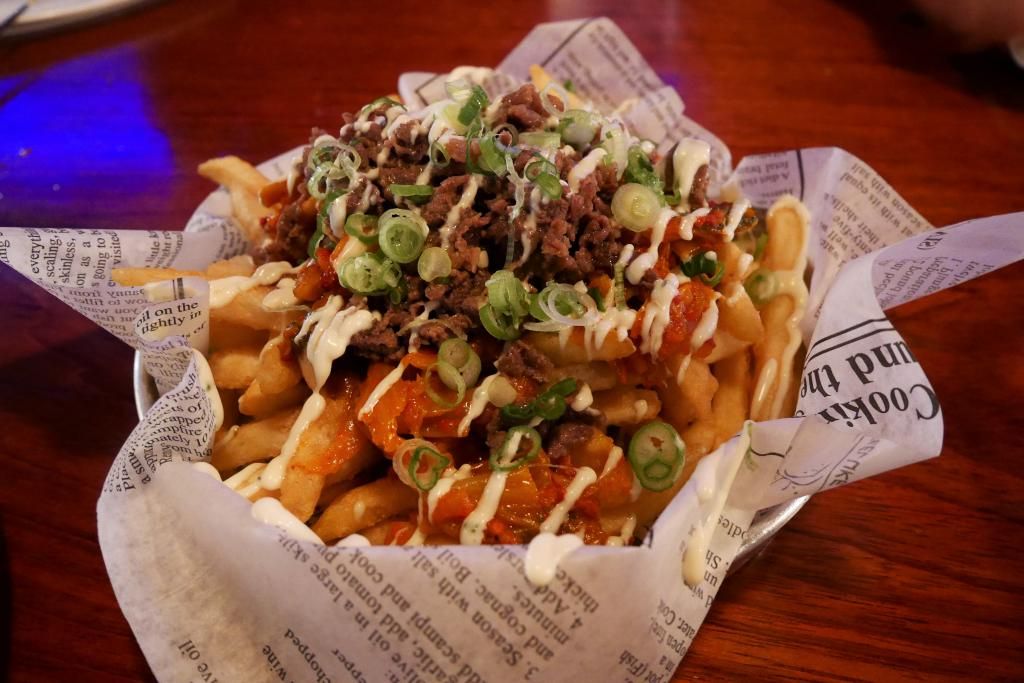 Kimchi Fries with Bulgogi - Extra crispy fries topped with kimchi, aoli gravy, sizzling bulgogi & green onions
Lobster - steamed lobster with a house sauce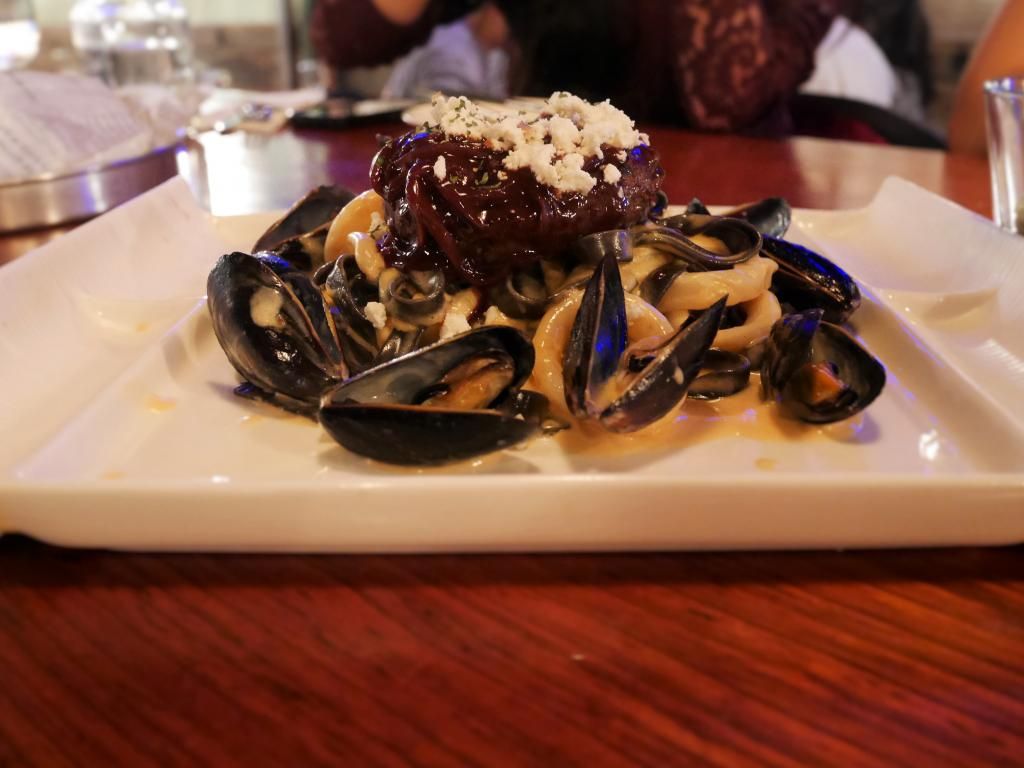 Black Squid Ink Pasta - squid ink pasta, mussels, with a house made Gochujiang cream sauce topped with Korean beef cake
Spicy Chicken with Fondue - grilled chicken in a sizzling plate with a mix of rice cakes, onions, and carrots with a side of creamy cheese fondue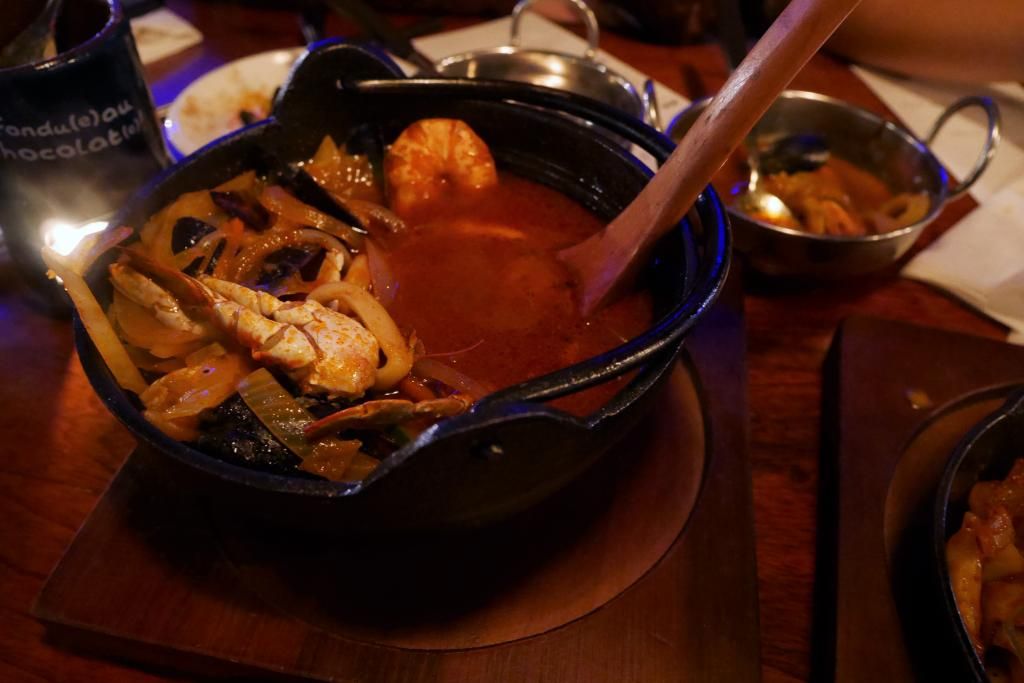 Spicy Seafood Soup - A spicy seafood soup with shrimp, mussels, and crab with Korean ramyun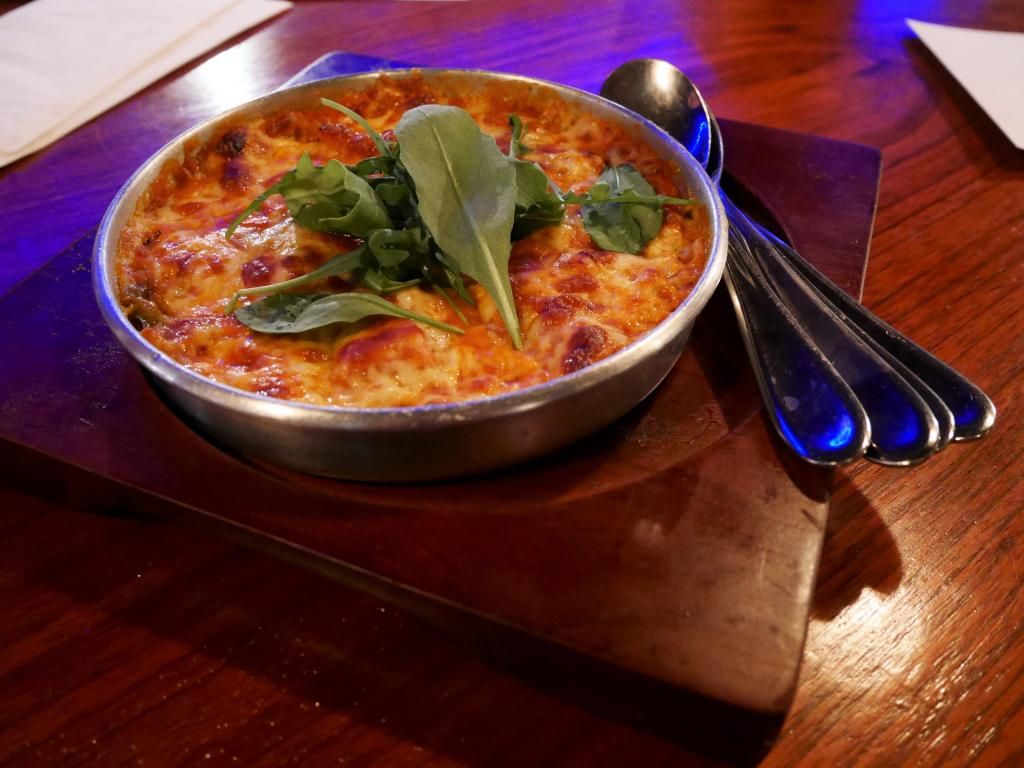 Spoon Pizza - mashed sweet potato "crust" with vegetables, tomato sauce, topped with cheese and bacon or kimchi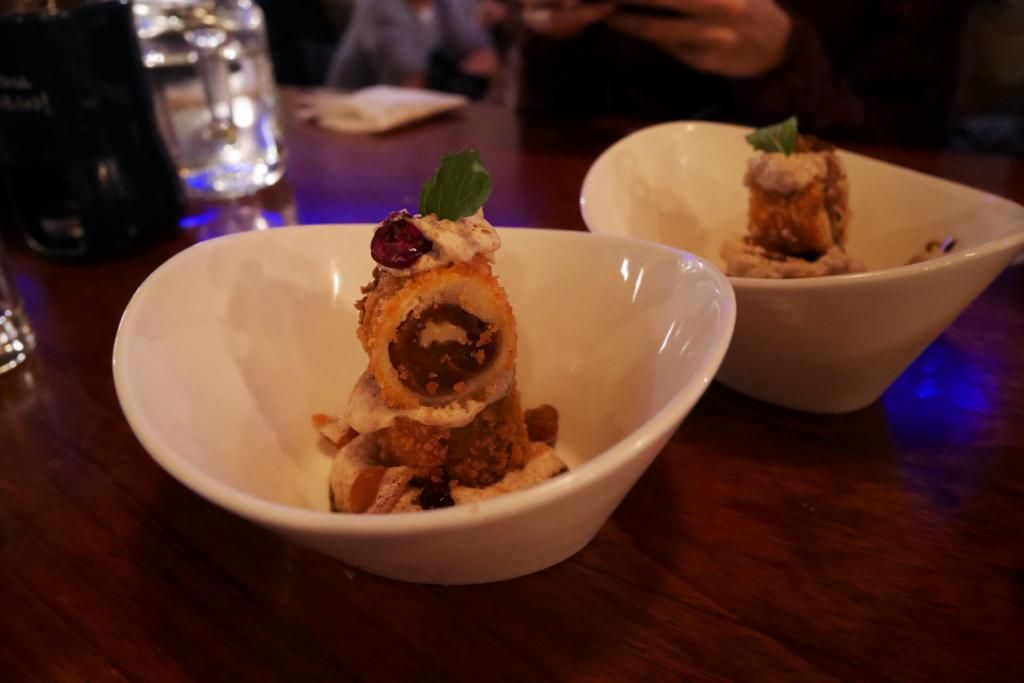 Dessert - Dried Persimmon
So, where to start? First of all, it was difficult to pick a favourite dish of the night. The Spicy Pork Tacos were the majority favourite at my table, which had a good flavour, a powerful spice, and incredibly tender pork. I also liked the Spicy Chicken which came with a cheese fondue for dipping. A kind of inventive way to add cheese to an otherwise traditional dukbokki dish.

The Kimchi Bulgogi Fries were quite the table pleaser, made with extremely crispy fries and generous amounts of bulgogi and spicy kimchi on top. Differentiating it from other kimchi fries in the city, it is served on top of a deep fried tortilla chip, which I thought went a long way to make it that much better.

And then you have your notably fusion dishes like the mashed sweet potato layered Spoon Pizza, and the creamy Black Squid Ink Pasta served with a kalbi meat loaf. The clashing food genres are a little odd at first, but somehow work well. Oh, and also worth a mention would be the Spicy Seafood Soup. I was actually so stuffed that we ended up packing this one up, but even after spending a night in the fridge it was delicious. The soup is incredibly flavourful, from what can only be hours of stewing with generous amounts of seafood. This one is great with ramen!

Two thumbs up from me, and will definitely be back for some more HBT! :)