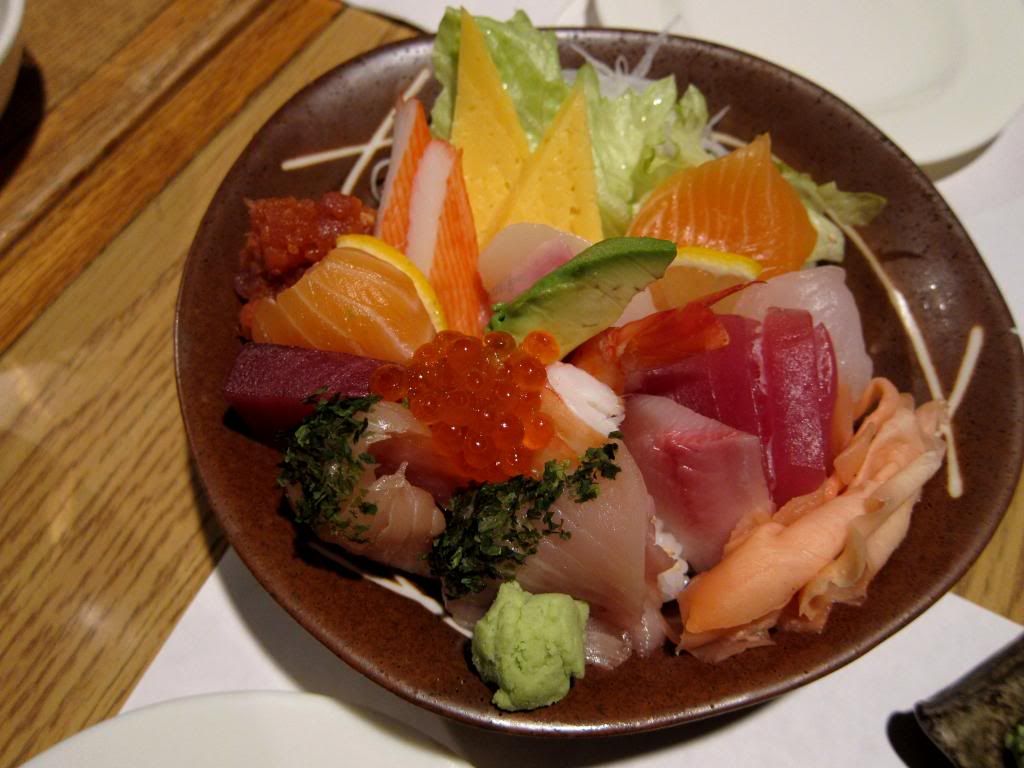 Location Review
120 Bloor St East
Toronto, Ontario
(416) 923-2997
Website
Situated between Yonge and Church on Bloor, Ichiriki is a inconspicuous little Japanese-run restaurant. Like most other eateries in this area, they draw a big lunch crowd from all the nearby offices. However, after-hours Ichiriki is just as lively. Aside from a seasonal omakase menu and a monthly live jazz band night, every Tuesday evening they welcome Soba Canada to take over the kitchen and serve fresh handmade authentic soba.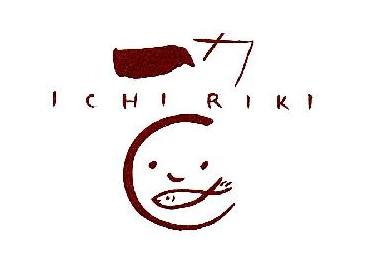 Ichiriki
A couple weeks ago I stopped by for a late night dinner with a friend. The tail end of their dinner crowd was just dying down, so my friend and I enjoyed a quieter meal in their small and friendly establishment.
Miso Soup and Edamame
After ordering, we were presented a personal portion of miso soup and edamame.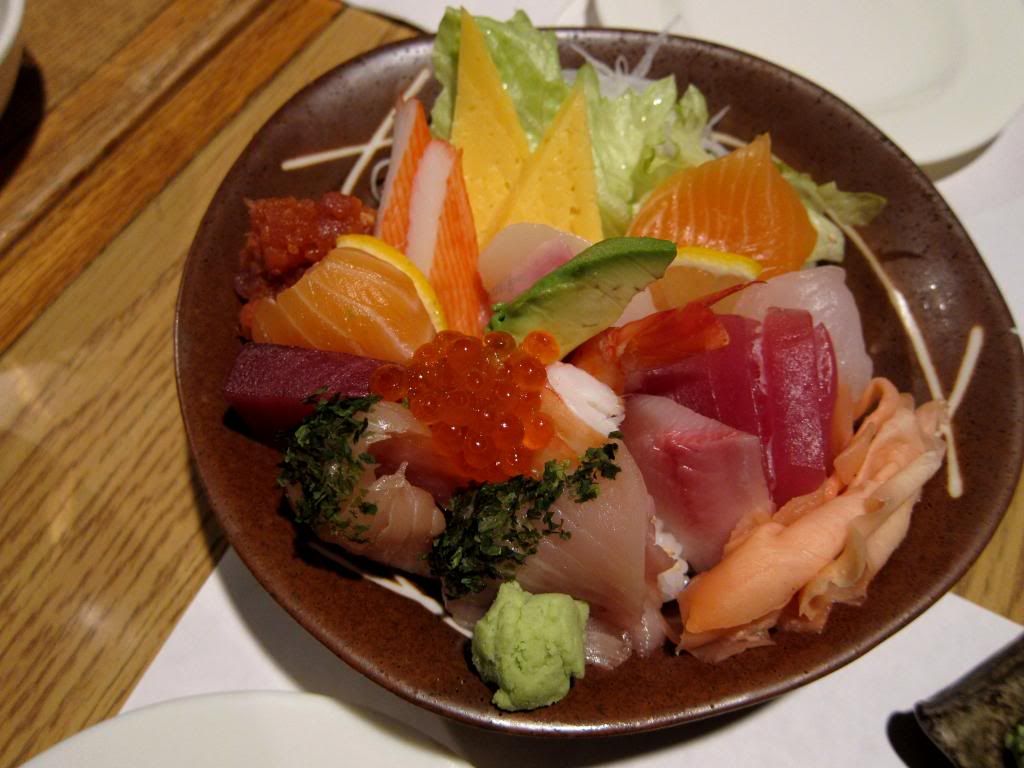 Chirashi Sushi ($24) - Assorted sliced raw fish, seafood, egg omelette and avocado on a bed of sushi rice
First came all the raw bar items, which for us was a chef's selection of sashimi from the Chirashi, and a Spicy Hotate Roll. Both were pretty standard. No complaints, but nothing to extremely remarkable to praise about either. Decent freshness, a pretty presentation, and reasonable value.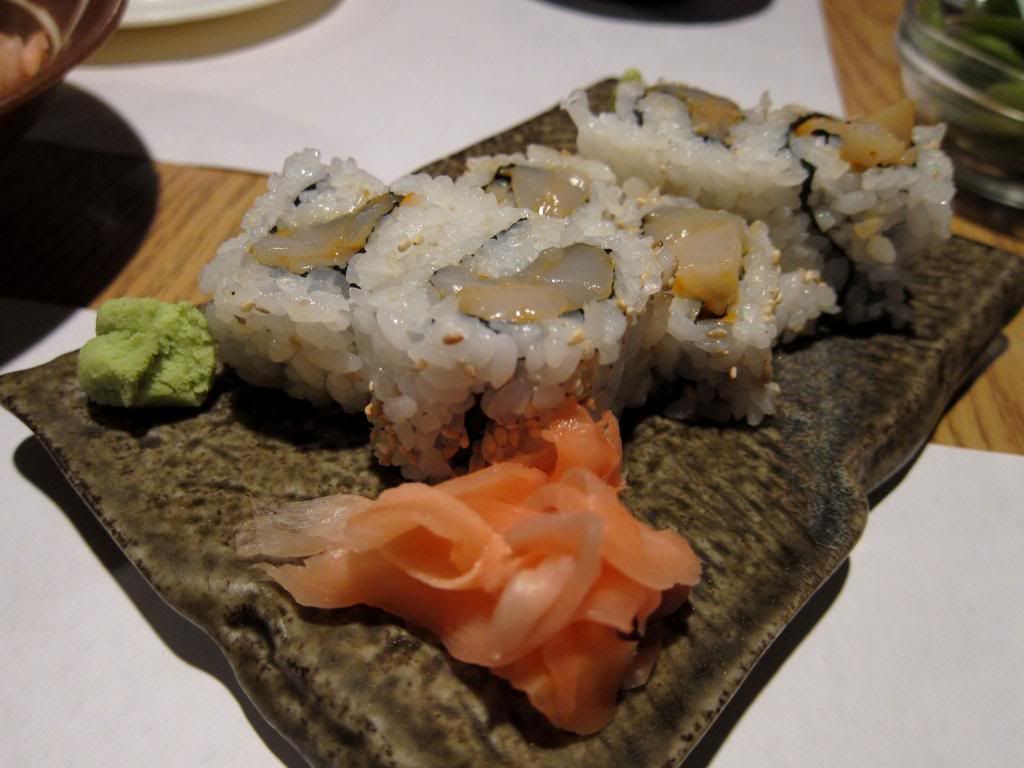 Spicy Hotate ($8) -spicy scallop roll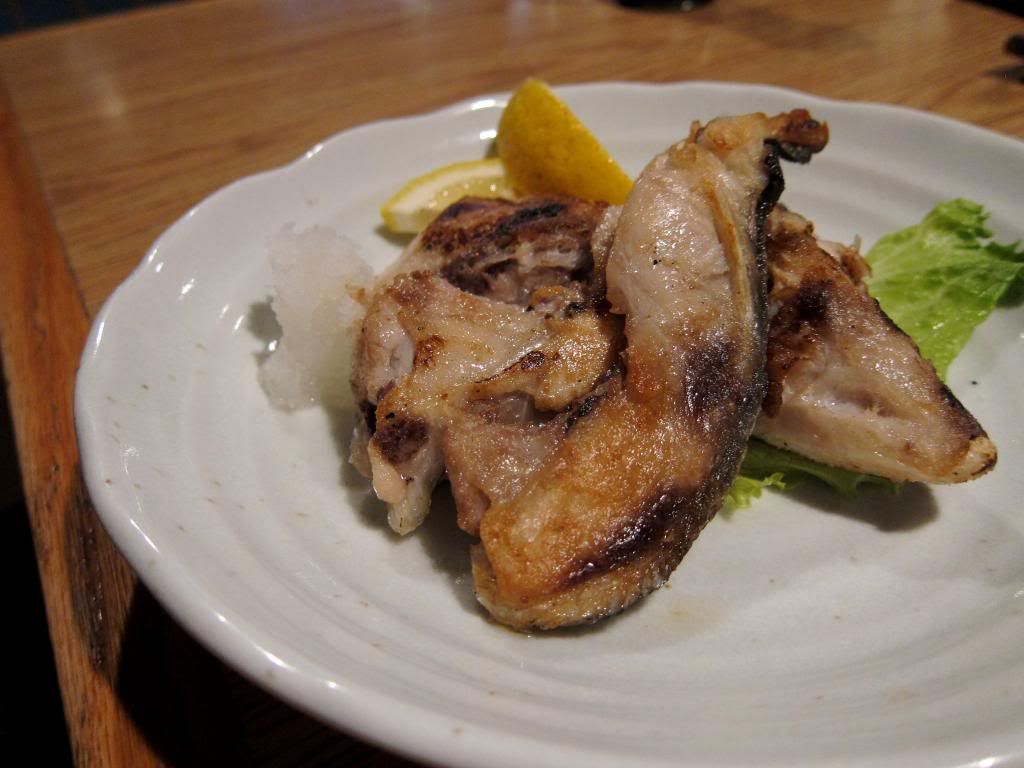 Hamachi Kama ($10) - grilled yellowtail with salt
It's not often that I have hamachi cooked, so this Hamachi Kama with sea salt was a nice change up for me. A memorably crispy skin, deep charcoal flavour, with moist flaky flesh.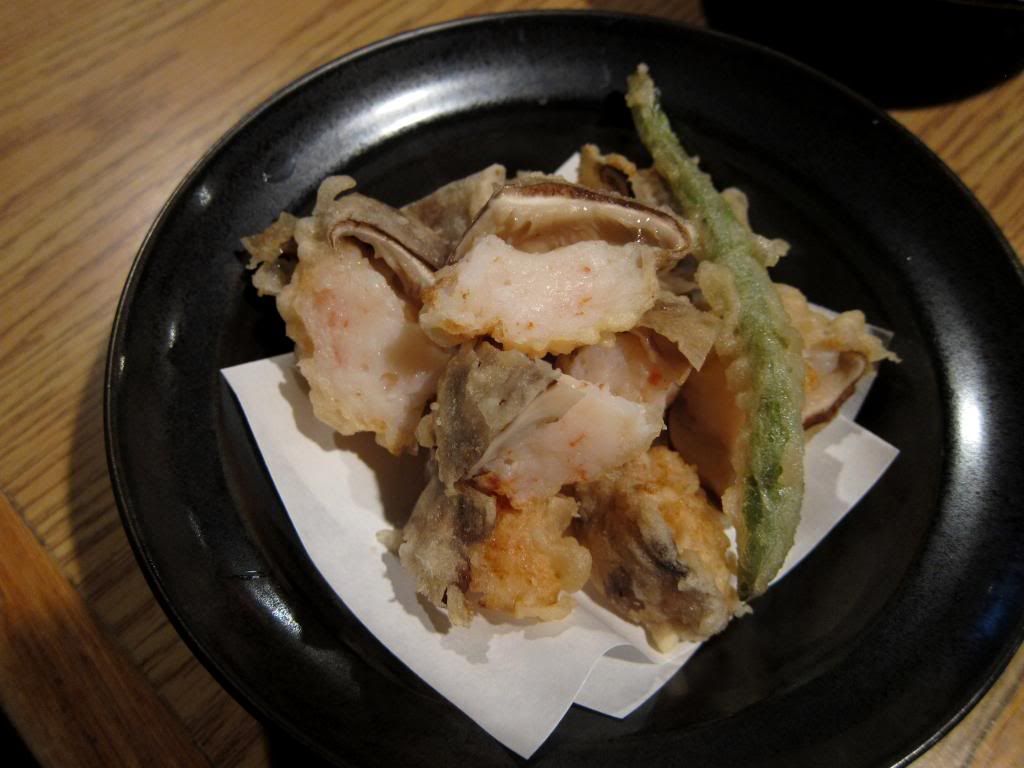 Urajiro ($9) - Shiitake mushroom tempura stuffed with shrimp
Next came the Urajiro, which my friend and I both agreed was our favourite dish. Succulent shiitake mushrooms are filled with a shrimp fish paste, and deep fried tempura-style. They went light on the seasoning here, but it allows allows the sweet dipping sauce to highlight the earthy shiitake aroma. A highly recommended order!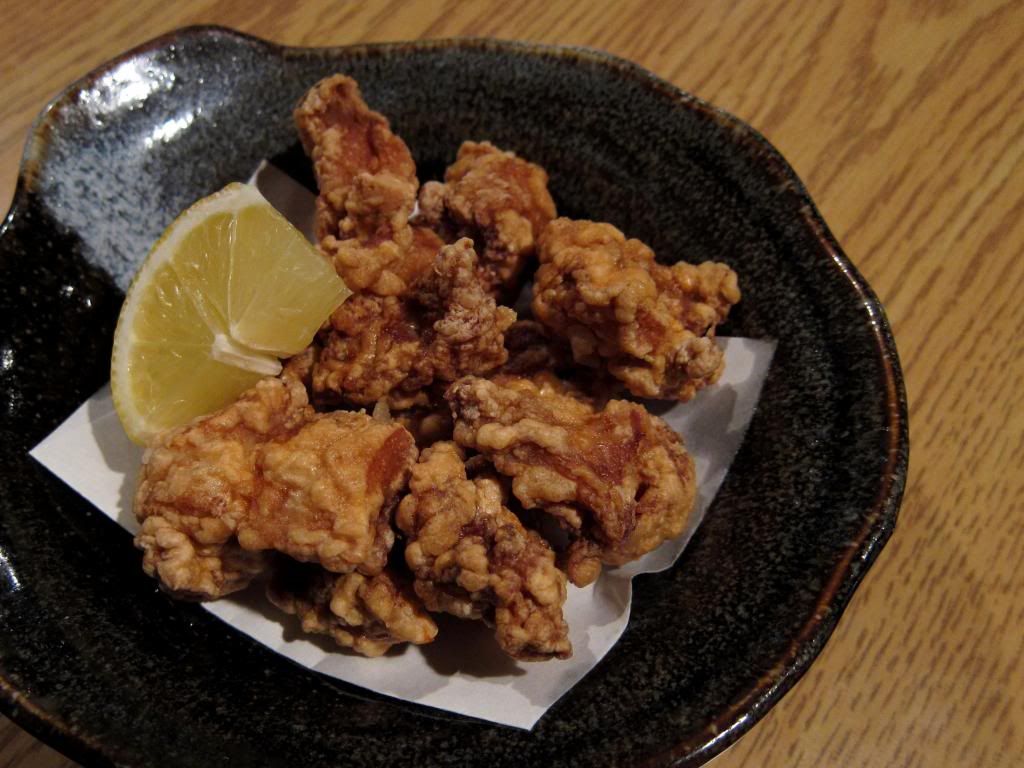 Chicken Karaage ($6) - deep fried chicken
Continuing with the deep fried goodness, the second most memorable dish of the meal was served. The Chicken Karaage has a deliciously moist chunks of meat wrapped in a light, non-greasy batter. It wasn't overly crunchy like I would've preferred, but I'd probably still place it on of my list of contenders for best karaage in Toronto.
Miso Katsu ($6) - deep fried pork cutlets with special miso sauce
Part of their daily specials menu, the Miso Katsu with no surprise fared well along side all the other cooked food items we ordered that night. It's simple, crispy, and delicious.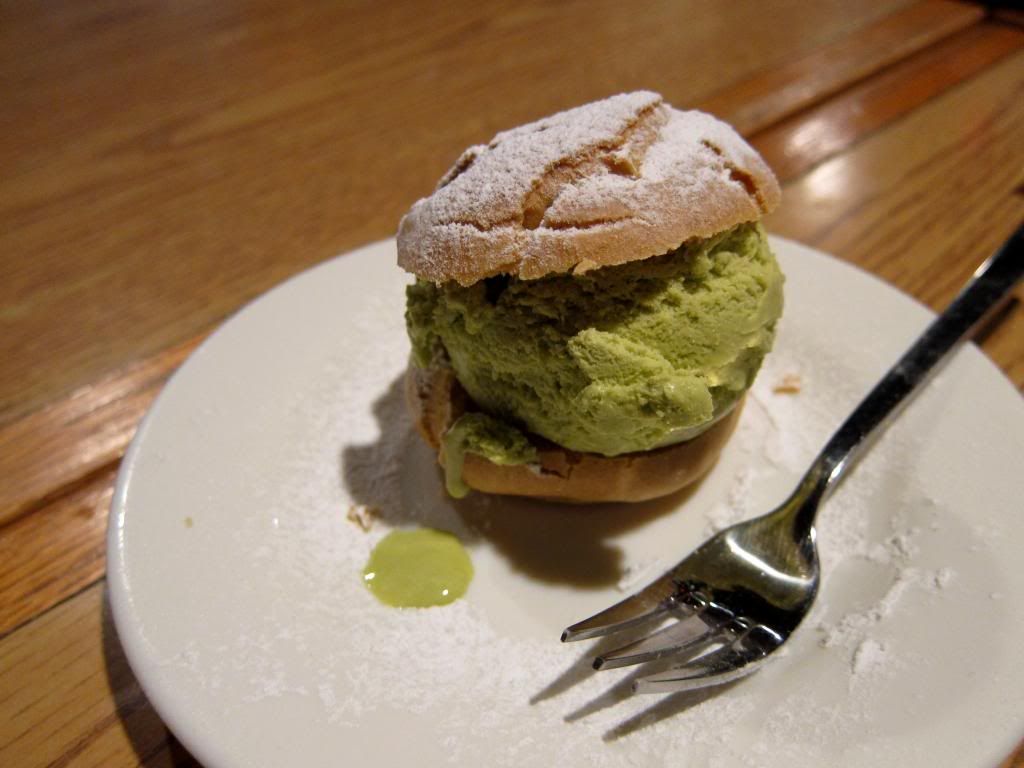 Green Tea Puff ($3) - ice cream puff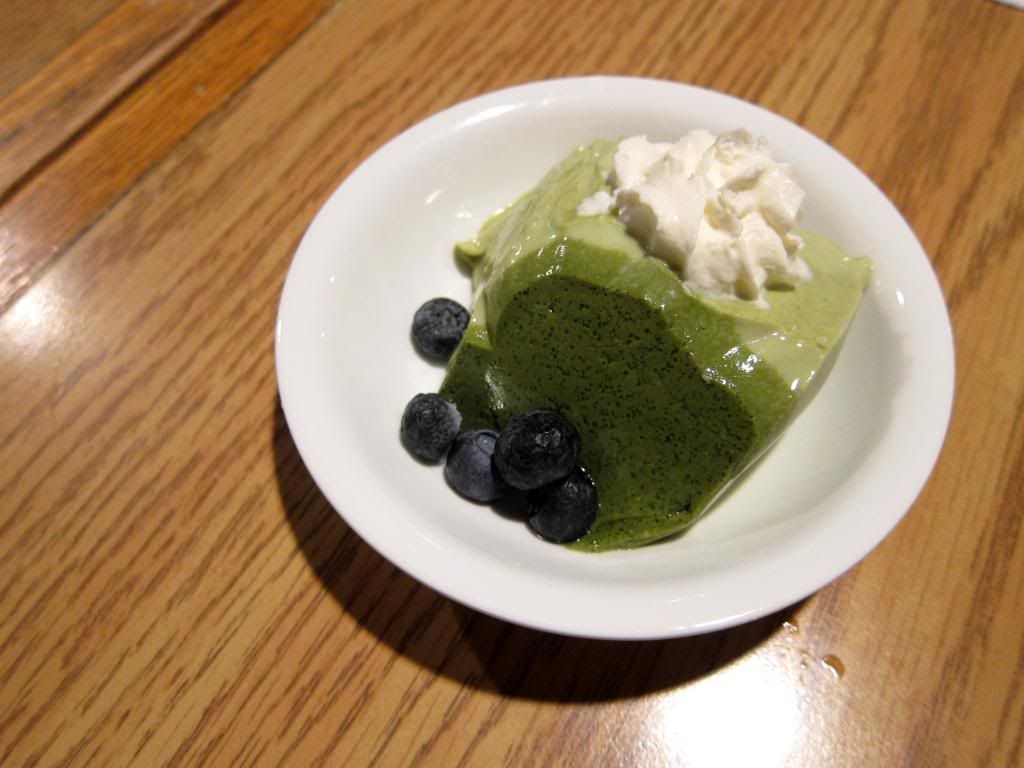 Green Tea Pudding ($3) - Ichiriki homemade pudding
Ending off a great meal is a duo of matcha desserts. The Green Tea Puff sandwiches the quintessential post-dinner green ice cream between a light choux pastry puff. If you're looking for something with even more green tea flavour, then definitely go for the Green Tea Pudding. Every bite is smooth, creamy, and potent with matcha. Delicious!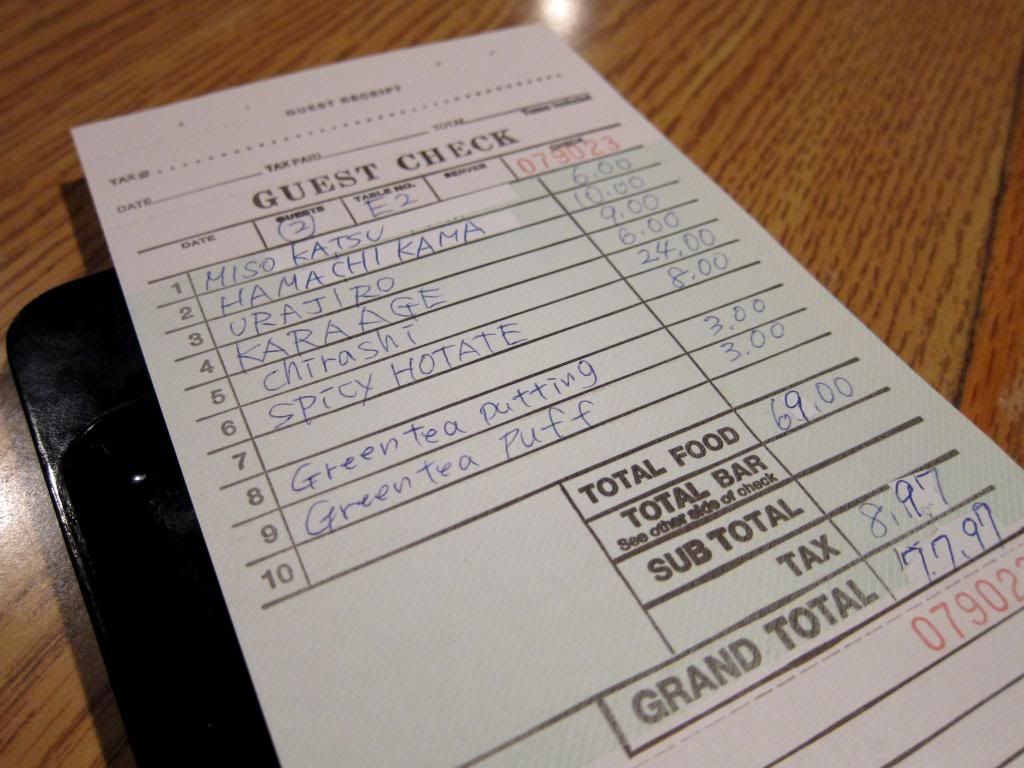 The Bill
Overall, it was quite the memorable meal. I'd probably take the cooked items over the raw menu, but that's not to say the sashimi or sushi was unpalatable. Just something about their deep fried food here is very well done!

Ichiriki is open for lunch Monday to Saturday 11:30am-2pm, and dinner Wednesday to Monday 5:30pm-9pm