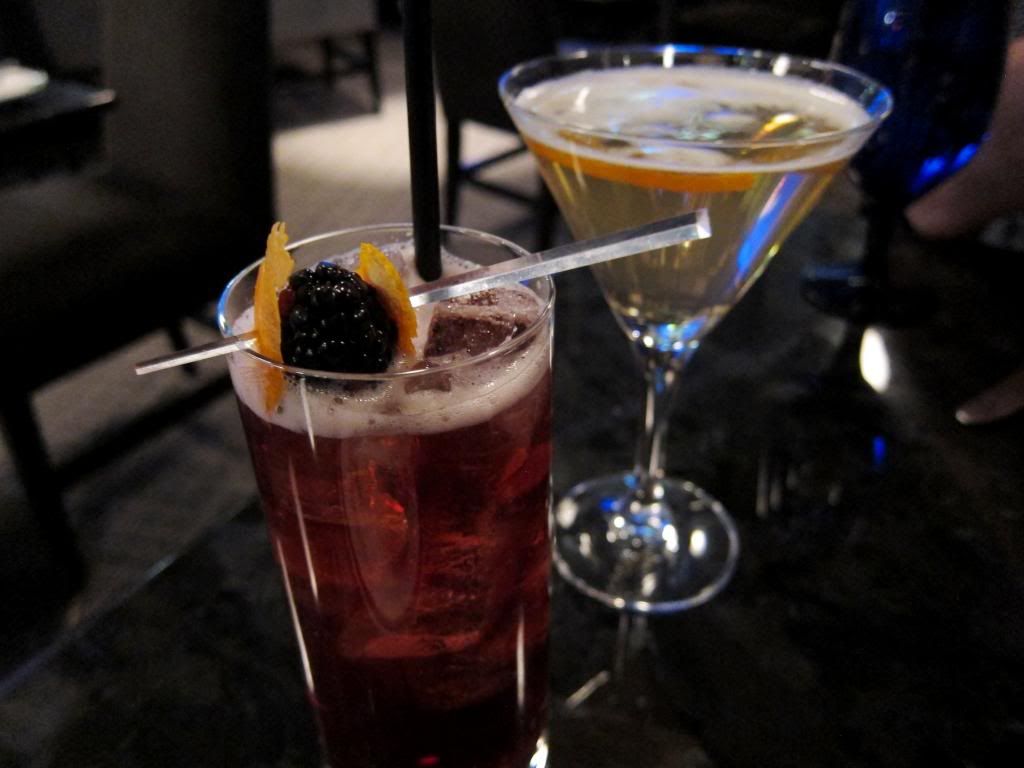 Location Review
225 Front Street West
Toronto, Ontario
(416)597-8142
Website
Continuing with the Winterlicious expeditions after a fantastic meal at King Street Social, I had the pleasure of dining at Azure Restaurant and Bar at The Intercontinental Hotel (@ICTorontoCentre) last week. This would not be my first time dining here; it was only a few months ago that I was sitting under their wall-to-ceiling glass canopy dining room, enjoying noteworthy cocktails and an inspired Summerlicious menu. With an empty stomach and a huge appetite, I had nothing but high hopes of once a gain being wow'd by their Winterlicious offerings.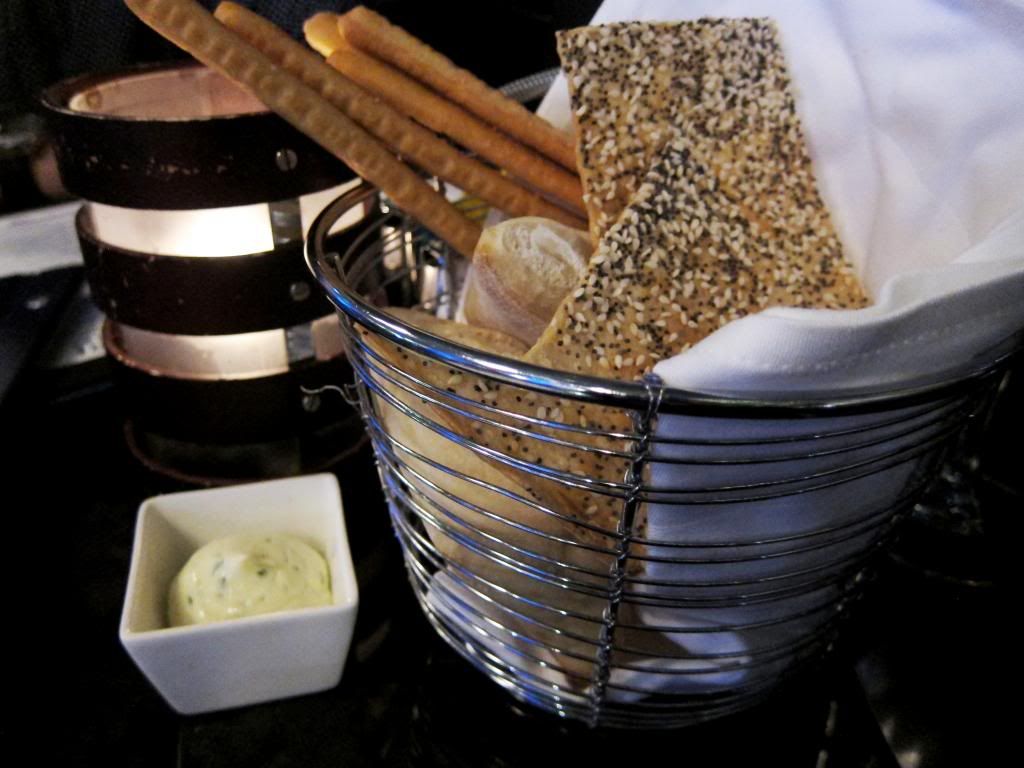 Bread Basket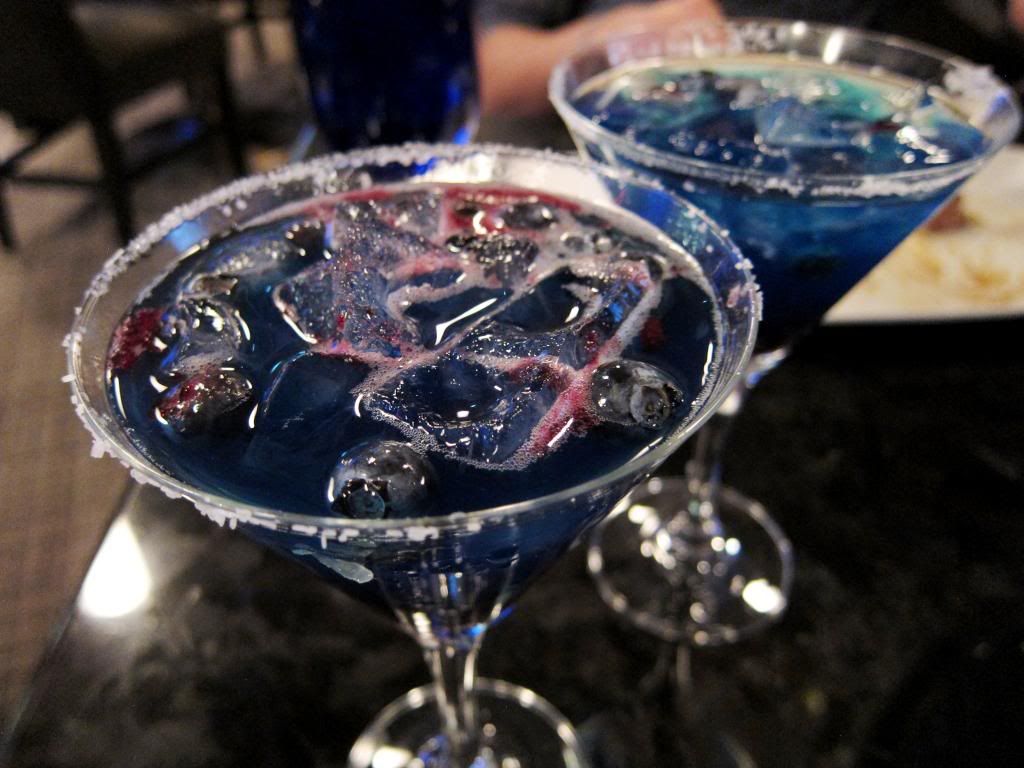 Azure Margarita ($12) -tequila, blue curaçao, fresh lime, blueberry purée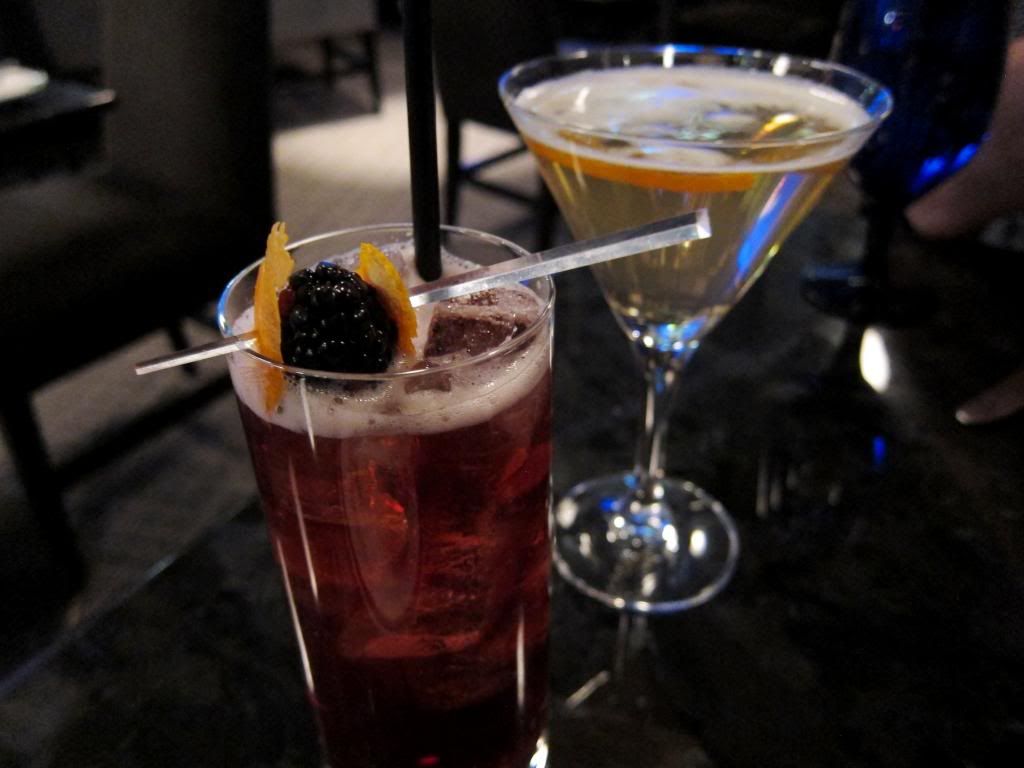 Green Tea Martini ($13) chilled green tea, absolute mandarin vodka, elderflower liqueur, agave syrup
Cognac Iced Tea ($14) -chilled black tea, hennessey vsop, cassis, chambord, fresh lemon
Like any good meal, your beverage accompaniment plays a big part in the experience. Ordering a couple of playful cocktails, we soon realized that they are all made quite strong! The server and bar staff was more than happy to remake one of the drinks that didn't taste quite right. Getting the perfect drink bang on makes all the difference! As you may have guessed from the ingredient list, the Green Tea Martini and Azure Margarita were fruitier refreshments, while the Cognac Iced Tea in comparison is bolder, less lighthearted of a beverage.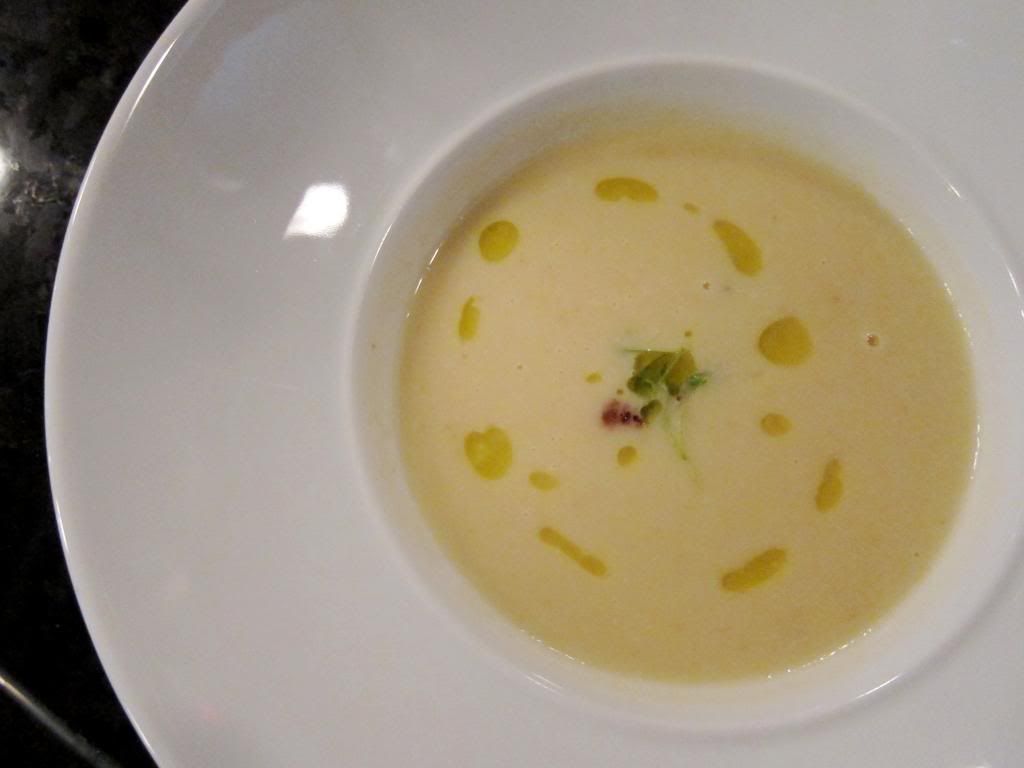 Parsnip Bisque -roasted pears, double smoked bacon
It must be the cold winter weather, but recently I find myself ordering a lot more soup as opposed to my typical salad. Good call on this one, because the Parsnip Soup ended up being a memorable one. Velvety smooth with chunks of supple pear and salty bacon bits, this was not your average puree soup.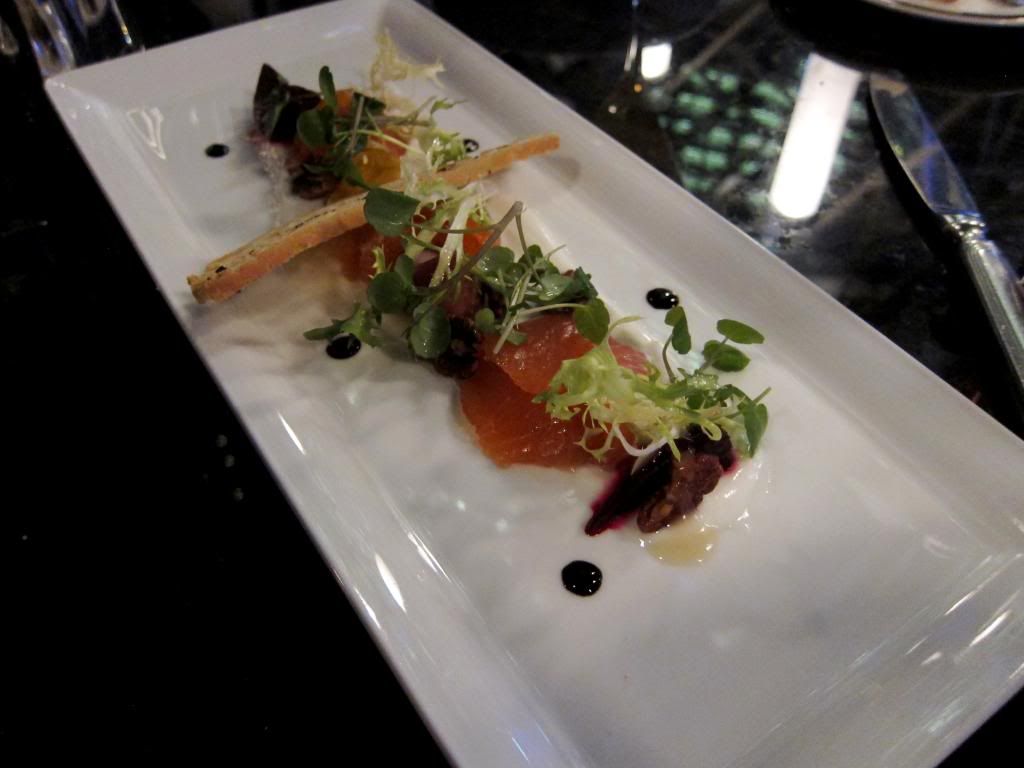 Maple Whisky Cured Organic Salmon -mini yogurt, candied pecans, ontario beets, crostini
To say this was delicious is an understatement. At some point, I think the words "This is the best salmon I've ever had" was used to convey what it tasted like. Obviously nothing is perfect, so perhaps the improvement point here on this one should be...more salmon!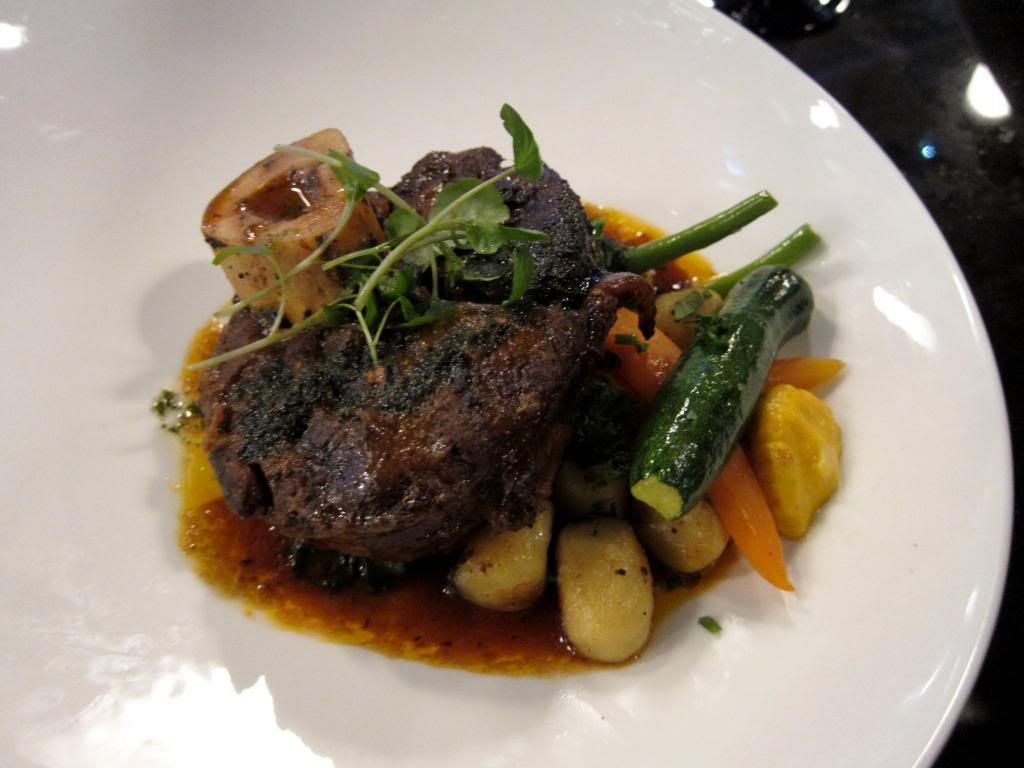 Ontario Grain Fed Veal Osso Bucco -potato gnocchi, root vegetables, kale, gremolata
As far as the mains went, I was not overly impressed by the bone-in veal. It was rather dry, which is unfortunate, because it was a success in terms of flavour profile, and being a fall-off-the bone tender. The redeeming quality of this dish would be the gnocchi. It was a little more al dente, just the way I like it!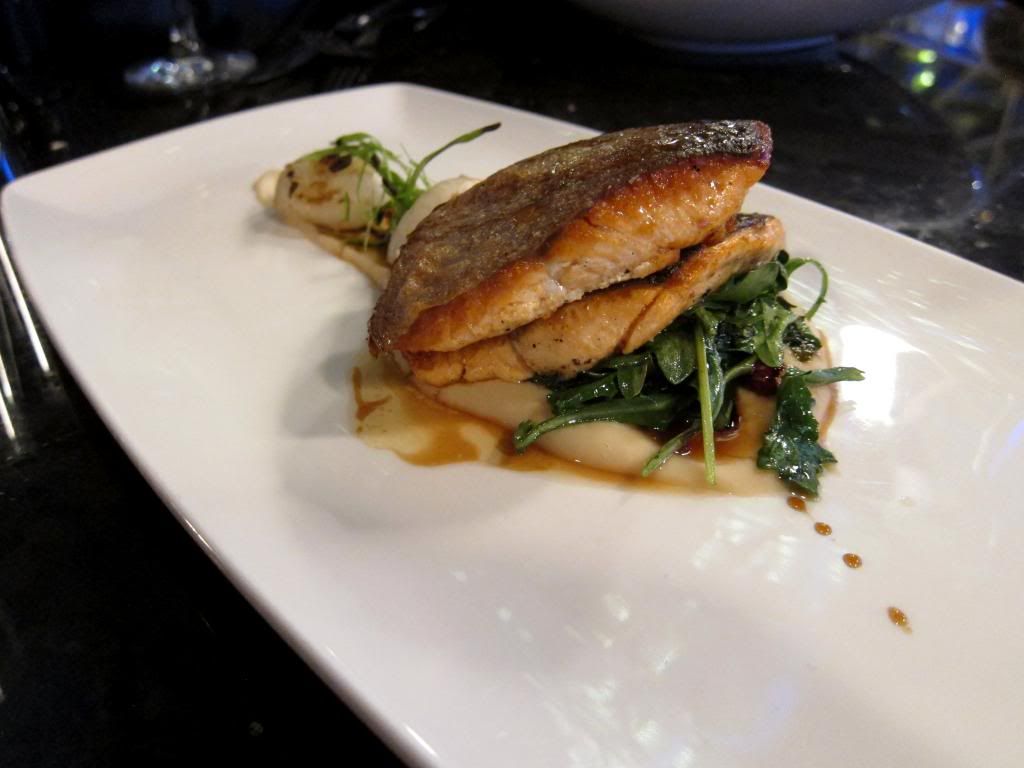 Pomegranate Glazed Arctic Char - navy bean puree, pistachios, roasted cipollini, arugula, chive oil
By comparison, the Arctic Char was the better main course. Incredibly moist and flaky fillets with all the complementing fixings executed to a T.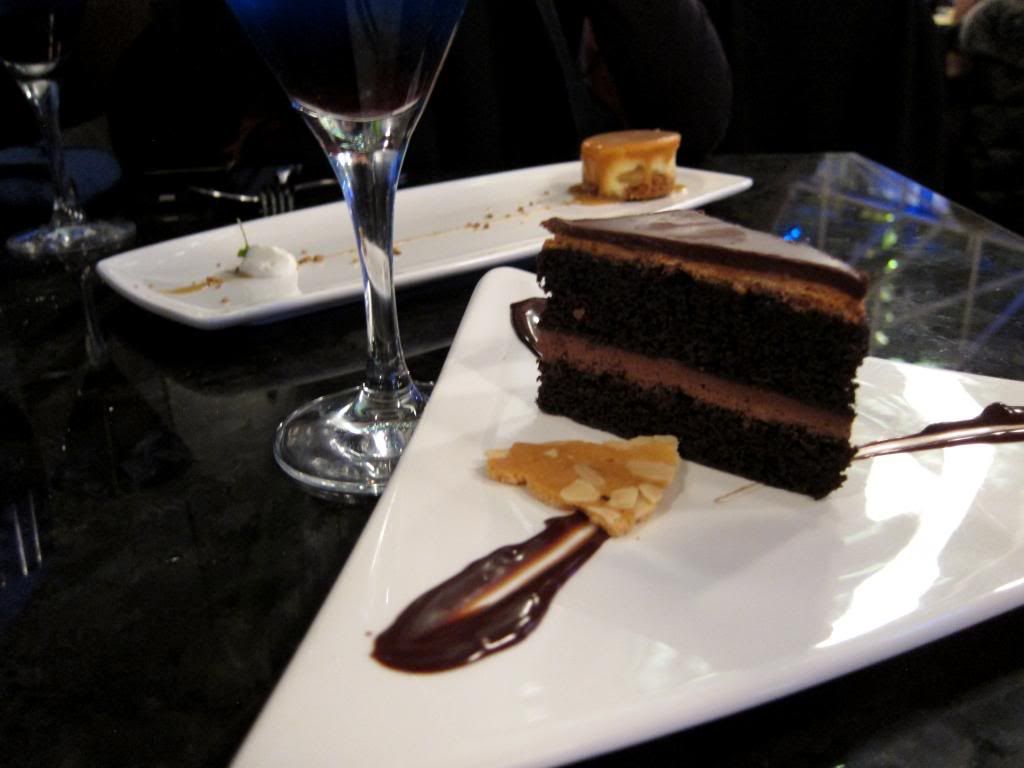 Cafe Mocha Chocolate Cake -almond wafer, vanilla ice cream
For those chocolate lovers, this cake is baked very dense with pronounced coffee and chocolate flavours. Overly sweet for my liking, but the cold vanilla scoop helps with it a bit.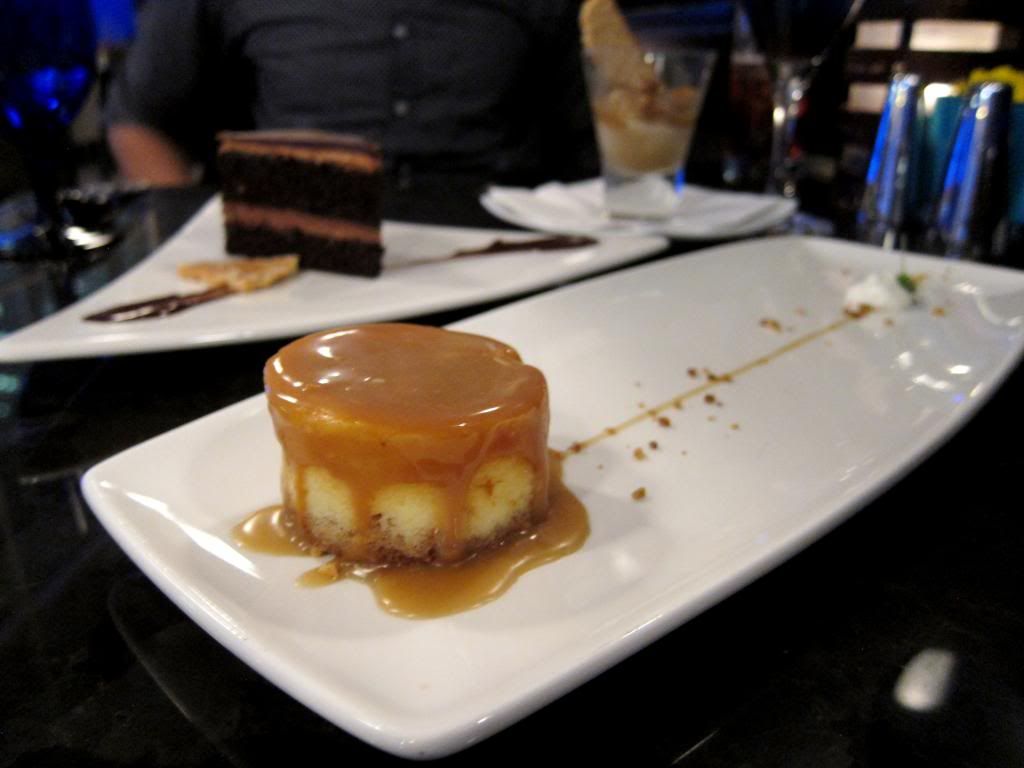 Apple Caramel Cheesecake - calvados sour cream, praline crust
A delicate cheesecake with a gooey decadent caramel topping. But it leaves me wondering, where was the apple? But details aside, a good cheesecake can always stand on it's own, and this one did just that.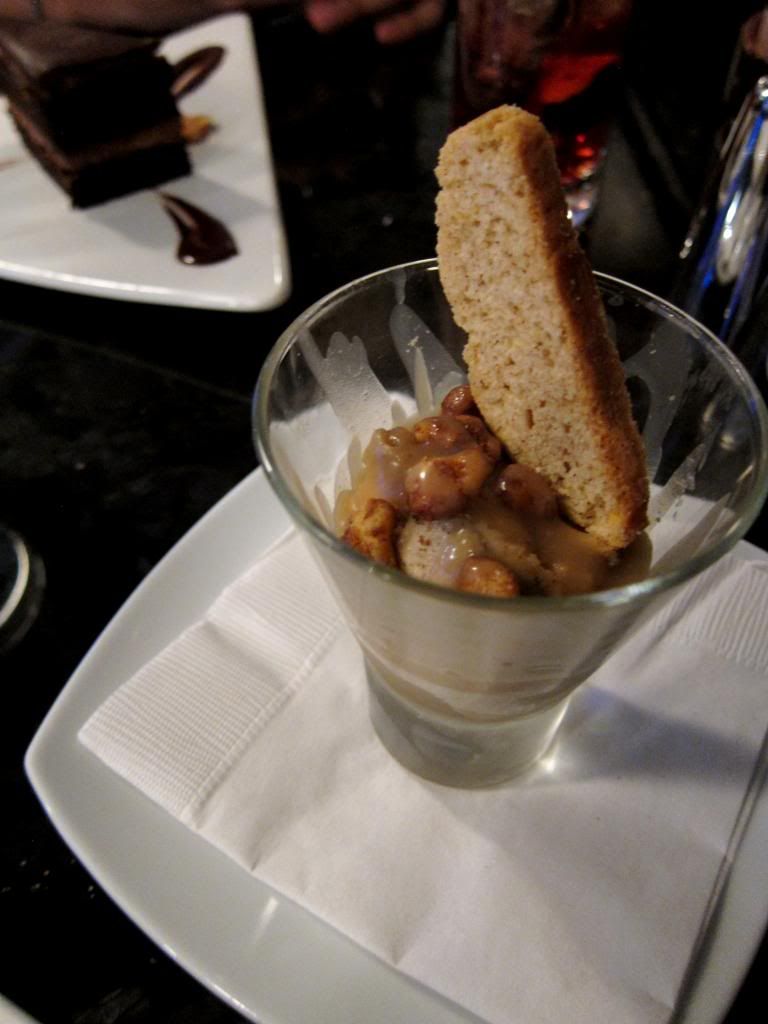 Banana Walnut Ice Cream -housemade biscotti, rum toffee sauce
Banana-flavoured desserts always brings up adverse memories of the yellow, artificial banana amoxalin that I used to take as a child. Since then I've developed some sort of aversion to anything banana-flavoured. With a preconotation that I would not be fond of this Banana Walnut Ice Cream, I was pleasantly pleased when I actually ended up enjoying it. The ice cream captured the banana flavour in its purest form, none of that nasty artificial aftertaste. It was a small and simple dessert, but one that put a big smile on my face as I devoured it entirely.
Winterlicious prix-fixe menus are being offered at
Azure Restaurant and Bar
until February 13, 2014 for lunch ($25) and dinner ($45).
**This meal was provided complimentary, but as always the opinions expressed here are my own**