Location Review
35 Elm Street
Toronto, Ontario
(647)347-2712
Website
Team Burger Eaters started off as a group of people hoping to try all the best burgers of the city. But as time moved on, we've clearly diversified to just trying out good food, period. That's right, a self-proclaimed group of foodies who get together periodically to eat. Life doesn't really get much simpler than that sometimes. Anyways, following the meals of
The Harbord Room
and
Bestellen's suckling pig dinner
, Team Burger Eaters strikes again with a trip to
The Queen and Beaver Public House
(
@QueenBeaverPub
).
The Queen and Beaver Public House is a British themed gastropub, serving up traditional English classics in a cozy British decor to match the part. While they certainly have an a la carte dinner menu, they also have a special feasting menu, which allows everyone at the table to share a family-style meal. The cost is based on the number of people you have, and the price includes the roast of your choice, potatoes, and seasonal vegetables (drinks excluded).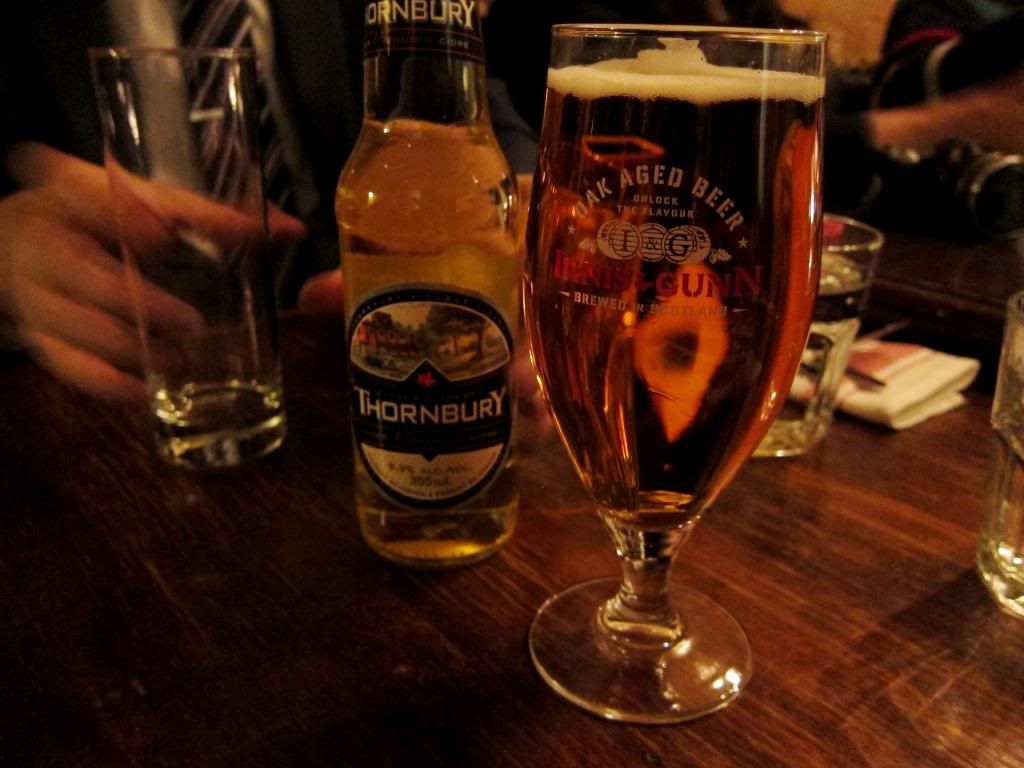 Thornbury($7) and Innis & Gunn ($7.25)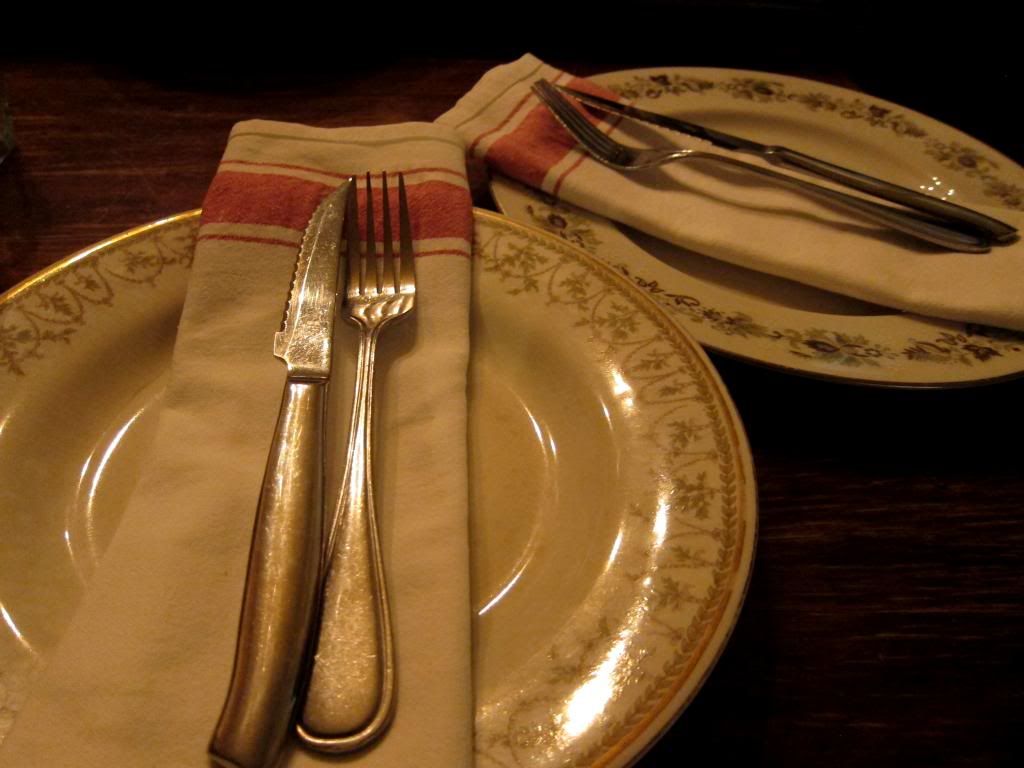 Pretty Dishes
Before dinner is served, each person receives their own setting of china and heavy silver cutlery. I love the plates here. Each one had a different design, but like everything else in the restaurant, they all fall under the same elegant Victorian theme.
Roast Ribeye of Bison ($36 per portion)- 6 portions ordered
Venison Stew with Cheddar Scones($24 per portion) -6 portions ordered
Roasted Vegetables
To balance off all the protein, a vegetable medley of brussel sprouts, parsnips, and carrots was served. Not any of my favourite vegetables, but when it's all tossed in a delicious buttery drizzle, I don't it too much!
My Plate of Food -OMNOMNOMS :)
Being an extremely cold evening, the meal was extra cozy. The Venison Stew was so comforting with its tender chunks of venison, hearty button mushrooms, shallots, and thick gravy. The Bison Ribeye Roast was also phenomenal. It's fully cooked on the edges, while still maintaining a red center and perfect tenderness throughout. My tummy just grumbled recalling this plate of food!
Spotted Dick with Citrus and Custard ($8)
This cozy home style meal ended with a couple desserts which we shared. After all the giggling, we shared the Spotted Dick, a traditional British dessert of cake and currants. The dessert is named after Richard, hence the humorous nickname.
Sticky Toffee Pudding and Vanilla Ice Cream ($8)
The Sticky Toffee Pudding was a favourite and almost everyone at the table ordered one. It has a nice heavy burnt caramel flavour offset by a vanilla scoop.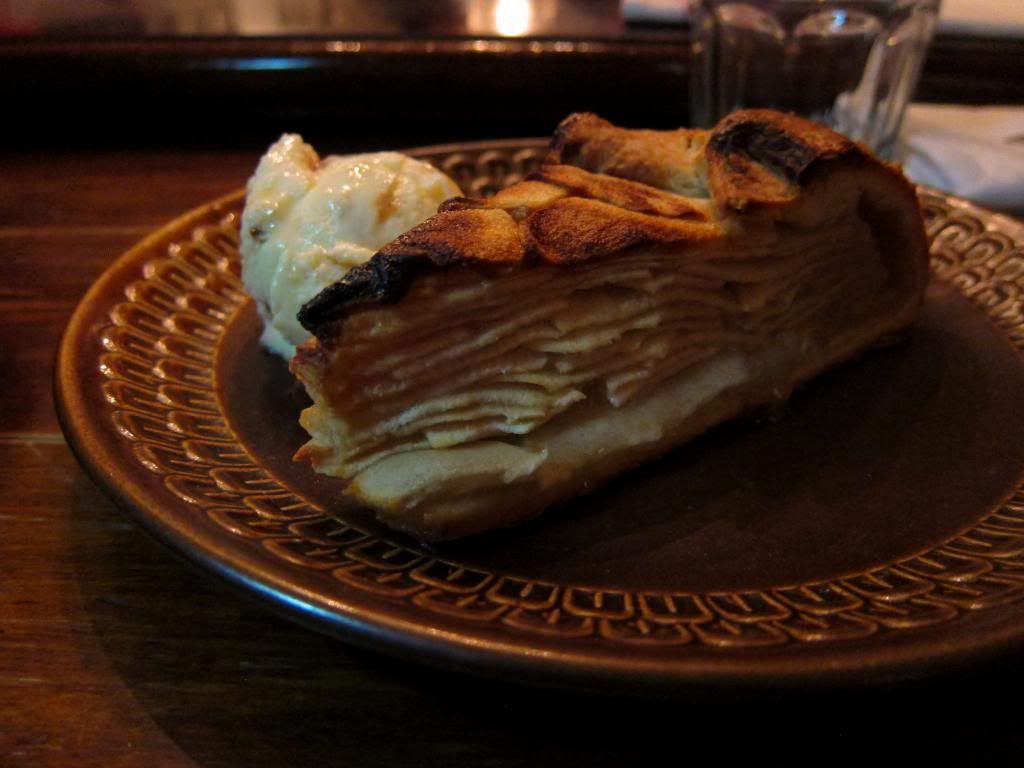 Tafferty Pie with Cinnamon Ice Cream ($8)
The dessert winner for me was definitely the Tafferty Pie. The pie's thin layers kind of remind me of puff pastry, but are actually a composition of extremely thin apple slices encased in a pie cust. The cinnamon ice cream was also THE perfect coupling, which was only made more amazing with the addition of crunchy maple syrup bits. Easily the best apple pie-like dessert I've ever had.
The Bill
The Queen and Beaver Public House is open Monday to Friday 11:30am - 1am, Saturday 10am - 1am, and Sunday 10am-12am. Don't forget to call ahead if you are planning to do the feasting menu!